Reprinted from The PSG Report,
2000, Volume V
For the second year in a row, PSG construction partner Paul Gidus spent part of his vacation this past summer in Mexico constructing rudimentary houses for needy Mexican natives. When Paul saw the scope of work that the non-profit organization Project Mexico takes on and the joy the new homeowners express, he decided to solicit donations of building materials from some of PSG's suppliers.
Paul's requests were met with enthusiasm. Blackton Inc. donated roofing materials, Residential Building Supply contributed lumber and doors, and Smyth Lumber supplied lumber. All materials will be used for building more houses in Mexico.
The houses Paul builds on his trips to Tijuana are a far cry from those his company builds and remodels in Central Florida. They measure 11'x22′–the size of an average American family room. The uninsulated houses consist of two rooms, concrete floor, flat roof, and used windows and door. There is no plumbing or bathroom.[/one_second]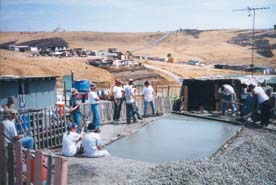 "I keep going back to Mexico because it helps put my whole life in perspective. When I see that these Mexicans can fit all their possessions in one tiny room, it helps me realize how unimportant material things are," Paul says. "These people are not saving for a car or furniture. They are worried about how to get their next meal."
Project Mexico is a non-profit organization founded by an Orthodox Christian couple who also operate an orphanage for Mexican boys.
More information on Project Mexico can be found at www.projectmexico.org.