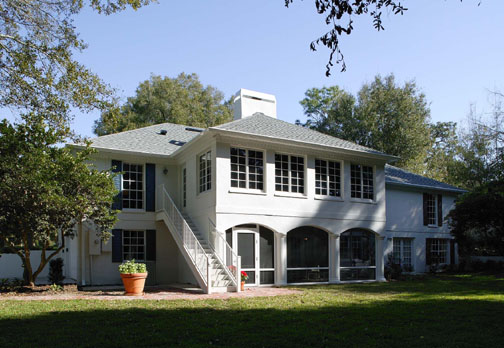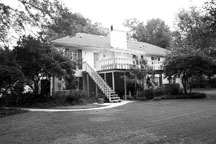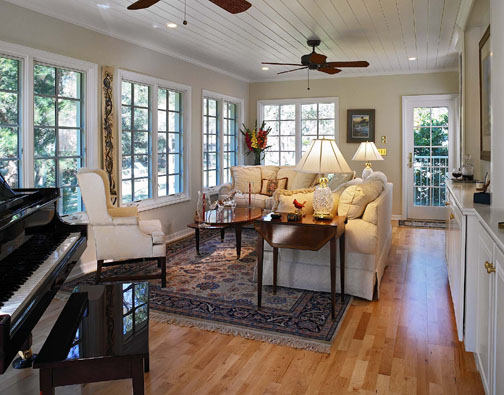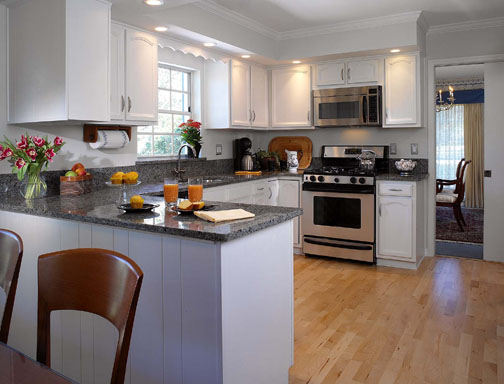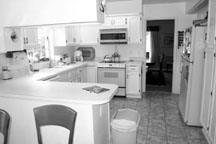 The Story
Kitchen Renovation Leads To
Two Story Addition
The idea of taking on a renovation and two story addition started when Jim DeSimone gave his wife Beth cooking lessons for her birthday. As an attorney, Beth found gourmet cooking a relaxing change of pace. "I had the best time in those classes!" Beth recalls. "Cooking is an escape for me. After a busy week, I enjoy doing something different and working with my hands."
The idea of a home renovation, that ultimately resulted in a kitchen remake and a new addition, came after Beth started using a gas stove in her classes. "I wasn't satisfied with my existing kitchen," Beth says. "I had basic appliances that were ready for replacement, and I wanted to upgrade them so I could better use what I learned in my classes."
Beth and her husband, who is Vice President of Communications for Darden Restaurants, decided to not only renovate their Longwood home, but also capitalize on their backyard which had been underused."Our back yard flows into a beautiful wooded area that is owned by Seminole County," Beth says. "But we had an old wood deck that you couldn't use anyway because it would get so hot–or the mosquitoes would drive you indoors."
The classic French colonial also lacked enough windows in the back to fully enjoy the woods. "So we ignored the beautiful view," recalls Beth.
The DeSimones were intent on changing all of that. Using their design/build services, PSG Construction helped them update their existing kitchen, replace the deck with a screened porch, and add a fully enclosed sunroom above the porch.
To upgrade Beth's kitchen, PSG re-painted the wood cabinets, replaced the laminate countertop with granite, and added a new maple floor, new lighting, and stainless steel appliances. By removing an upper cabinet, the kitchen appears more spacious and is opened up to the adjacent dining area.
With three walls of windows, the new sunroom is bathed in light and provides the DeSimones with a view of the woods they had missed for so long. "We added this room with the idea of coming in here with our morning coffee and enjoying the outside," Beth says. "We wanted to bring the outdoors in. New landscaping also was added so you can see something special from every window."
The sunroom displays distinct character with a tongue-in-groove painted ceiling, maple floor and built-in bookcases. A grand piano is prominent in one corner of the room.
"With the wood ceiling and wood floor, the acoustics are great," Beth says, who also is a violinist. "On New Years Eve, we had a gathering in the sunroom with a number of local string musicians. We all played and had a wonderful time!"
The sunroom, which added about 350 square feet to the home, is conveniently accessed from two sets of doors in the adjacent family room.
The screened porch below the sunroom was designed with graceful columns, arches, and an aged brick floor. "Now we are able to sit outside and enjoy the Florida air. We can enjoy meals on the porch without being bothered by bugs," Beth says.
PSG also solved a storm-water problem that caused the DeSimone's garage to flood during heavy downpours. By re-grading the front of the property, and adding new drains and a new driveway, PSG eliminated the water problem. A bonus was that the front of the home was distinctly enhanced. Brick pavers were inset in the driveway at the entrance and a new set of brick steps leads to the front door. The brick pattern is also repeated on the walk leading to the back of the house for a unified look.
Although Jim DeSimone had no idea his wife's birthday gift would unfold into a full-scale renovation project, the entire family is benefiting– from Beth's inspiring cooking as well as an inspiring view.
SOURCES
Electrical – J.D. Electrical Contractors, Inc.
Plumbing – Modern Plumbing
Drywall – R.K. Edwards, Inc.
Interior Trim & Doors – Residential Building Supply
Appliances – Southeast Steel
HVAC – Air Masters