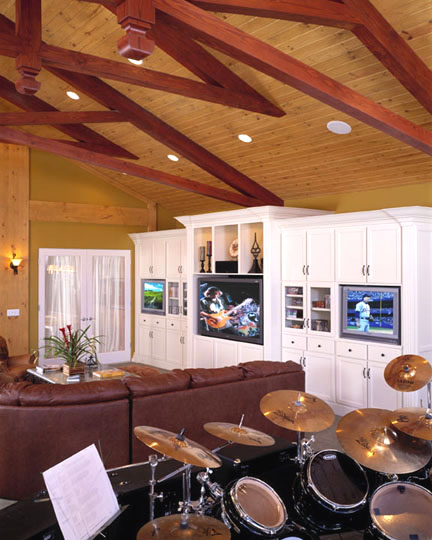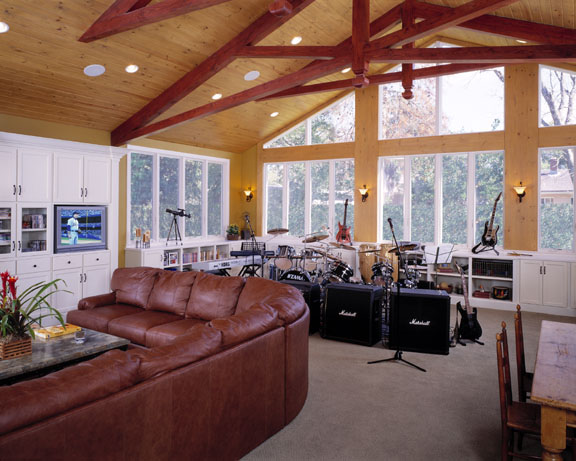 The Story

Featured In Orlando Leisure Magazine
Featured In Orlando Magazine
2003 Parade Of Homes
First Place Winner

When there are six children in the family, recreational space can easily become a challenge. Even with a large home that has been renovated and expanded, Dr. Egerton and Anne van den Berg found it difficult to find suitable leisure space for their children who range from teenager to toddler.
The van den Bergs found the space they needed at an unusual spot-their guest house located next door.
The van den Bergs called on PSG Construction, who had completed several previous renovations and additions, to come up with a recreation room that could accommodate their teenage son and his band, plus be equally suitable for the rest of the family.
The solution was a 1,300 square foot recreation room that is just steps away from the back yard of the main residence. The room is designed to resemble the gathering room of a comfortable cabin, with a 16 foot vaulted ceiling that accentuates the room's spaciousness. The tongue-and-groove ocher stained pine ceiling complements the heart pine in the guest house. Pine wall detailing emulates the framework of the windows. Solid timber beams with decorative finials give massive appeal to the room. Floor-to-ceiling windows line one wall to bring in plenty of natural lighting and a pleasantly landscaped view. Storage closets were also designed into the space, and a full bathroom also serves as the pool bath for the main house.
The focal point of the room is the 22 foot built-in entertainment center with electronic equipment that is the latest in technology. The entertainment center houses a 65″ true high definition television set up for DTS-ES surround sound, and flanked by two 32″ TVs that have the capability of serving as computer monitors, video game monitors and cable outputs. Behind the built-in is a walkway that gives access to wiring for the electronic equipment.
Wanting to be sure that neighbors and guest house occupants would not be disturbed, the van den Bergs requested that the structure be well insulated.
"I'm surprised how well the room is insulated," Anne remarks.
Anne says the room really is an all-purpose room. In addition to serving as a place for the kid's band to practice, the children practice their individual instruments there. They often play computer and video games. Egerton enjoys escaping to the room to watch movies or read the newspaper. "We've had parties in the room also," says Anne.
The new recreation room rarely gets a rest. Multiple activities can take place in the room. It serves as a perfect party house or quiet respite. Most of all, the van den Berg children have room to creatively express themselves, and Mom knows exactly where they are…just a few convenient steps away.
SOURCES
Drywall – R.K. Edwards
Interior Trim & Doors – Residential Building Supply
Plumbing Labor – Modern Plumbing
Air Conditioning & Heating – Air Masters
Cabinetry – S & W Kitchens, Inc.
Carpet – Florida Home Carpet
Roofing – Steppi Roofing
Electronic Equipment – Mr. Hook-it-up