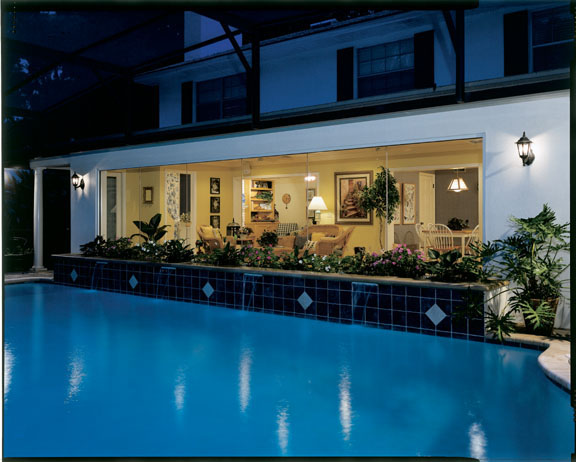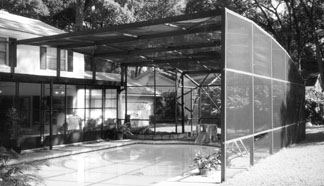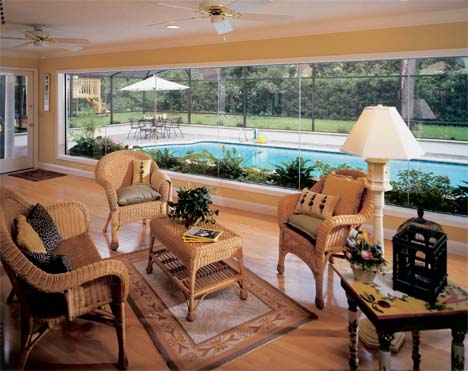 The Story

2000 Parade Of Homes
First Place Winner
A "family center" was what this young couple wanted. As physicians, the husband and wife were intent on keeping their family at the center of attention when at home. Even though the couple knew they would invest in some sort of addition, they didn't think they could get what they really wanted because of the configuration of their space.
Their existing family room was limiting, to say the least, and didn't give them the "hub" they needed when they were together.
The husband came to PSG Construction with preconceived ideas of how they could expand their existing family room, but considered its limitations to be nothing more than a "boring box."
The challenge was that little distance existed between the exterior wall of the family room and the outdoor pool. The husband was open to suggestions.
As experts in creating space planning solutions, PSG Construction showed the couple that if they pushed the addition out to the edge of the pool, they could get the spacious "family center" they really wanted. They would also gain the stunning effect of being directly on the water.
The existing french doors leading from the family room to the pool area were removed and the exterior wall of the new "family center" was fitted with a 24-foot expanse of butt glaze glass that showcases the pool. A planter filled with tropical foliage runs along the edge of the pool and four fountains release rhythmic cascades of water into the pool.
On one end of the addition, PSG Construction added a casually outfitted bathroom with bead board wainscoting, pedestal sink, shower, and storage closet. Also part of the project, a handsomely designed stucco retaining wall with cast stone cap deters potential water or dirt build-up in the pool area. PSG Construction refinished the pool interior, encased the pool with a new screen enclosure, and installed brick pavers around the pool's perimeter.
PSG Construction helped the couple solve the dilemma of gaining a much-needed "family center." The bonus was a lush view of their newly-restored pool that puts them on the water's edge.
SOURCES
Roofing Contractor- Albert J. Steppi Roofing
Roofing Supplier: Blackton, Inc.
Interior Trim & Doors- Residential Building Supply