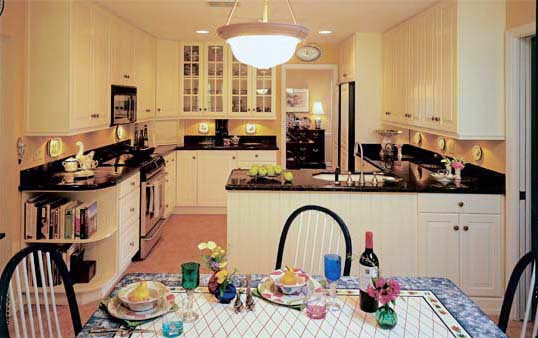 The Story

Featured In Woman's Day Specials
Kitchens & Baths Magazine
Featured In Orlando Business Journal Homes & Estates
Sometimes all it takes is a sensible update to give a home a well-deserved boost. Take Michael and Sydney Green's Winter Park home, for instance. Located in Sevilla, the Greens considered this an ideal location they were unwilling to relinquish. Space was not a problem either. With 3,500 square feet, the home gave Mike and Sydney all the comfort they wanted. But the two-story 70's home was showing its age, and that didn't agree with the Greens.
Having friends and acquaintances who had used PSG Construction, the Green's called PSG and found it wouldn't take a grand makeover to turn their home into something they could be excited about and eager to share with family and friends.
Since the Greens were happy with the master bedroom suite that had been added just ten years earlier, PSG Construction concentrated on updating the kitchen and two guest bathrooms.
The kitchen was gutted, and the low, seven-foot soffits and a bulky header over the bay window were eliminated, and the ceiling was raised to eight feet by concealing duct work in the trusses. A new tile back splash, richly lacquered cream cabinets, granite countertops and stainless steel appliances replaced the worn products. Raising the ceiling and selecting lighter-colored finishes produced a kitchen with a more open, spacious feel. Interior designer Laurie Malmberg selected product finishes and coordinated the kitchen layout to maximize usage of floor and cabinet space.
Concerned with providing pleasant accommodations to their college-age children when they returned home for visits, the Greens asked PSG Construction for help with two upstairs bathrooms. Both bathrooms were gutted and existing fixtures and finishes were updated for the comfort of their children as well as other guests.
Kitchens and bathrooms quickly date a home. By concentrating on these areas, the Greens have found new reasons to stay put and love their Sevilla home more than ever.
SOURCES
Appliances Wholesaler- Sub-Zero
Appliances Retailer- Southeast Steel
Interior Trim & Doors- Residential Building Supply
Cabinetry- S&W Kitchens
Tile- United Tile