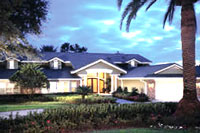 Reprinted from July 2003 news release.
The 11,000 square foot Sweetwater home that was entirely gutted and fully renovated by PSG Construction, received an Aurora Award in conjunction with the Southeast Building Conference at the 25th annual Aurora Award ceremony held Saturday, July 26, 2003. The Winter Park, Florida remodeling company was selected from entries in the category for "Remodeling, Rehabilitation or Historic Restoration."
Formerly the home of the late Charles Givens, author of "Wealth Without Risk", the lakeside home had been built in the 1980's and was in need of major attention.
To help transform the home into space more suited to a contemporary lifestyle, the ballroom overlooking the lake was eliminated. In this 50 foot by 36 foot space an open family room, kitchen and dining room was designed, each flowing into the other without divisions. The space is surrounded by floor-to-ceiling windows and French doors that provide a panoramic view of the rear of the home–also extensively renovated–with a refinished pool deck, spa, new cabana and sea wall, boathouse, private beach and observation deck.
The entry and open living room are designed with 20 foot ceilings and a wood floor inset with patterned marble.
The second floor is entirely dedicated to the master bedroom suite that includes a 16 foot x 26 foot office, granite shower/steam room and wet bar. PSG Construction worked with Lucia Custom Home Designers to complete the project.
Full Story with Photos