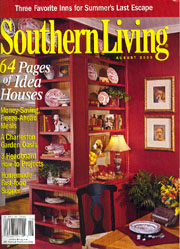 Reprinted from July 2003 news release.
The kitchen that is part of a three-time award winning project completed by Winter Park-based PSG Construction is featured in the August issue of Southern Living magazine. This is the third time the company has been featured in the national magazine in two years.
The kitchen renovation in this 1970's colonial-style home helps bring the outdoors to the inside and provides a more inviting view of the lake. A wall between the family room and kitchen was removed, as well as the original peninsula counter for better traffic flow to the newly added 700 square foot porch and pool area. Soffits were removed to help open up the kitchen by creating a continuous 8 foot ceiling. The renovation also included a 700 square foot balcony located off the master bedroom suite and connected to the porch by a spiral staircase.
The project was awarded the 2002 Aurora Award in the category for Remodeling, Rehabilitation or Historic Restoration as well as Best Remodeled Kitchen in conjunction with the Southeast Building Conference. The home was also recognized with the Home Builders Association of Mid-Florida 2002 Remodelors'™ Showcase Grand Award.
Full Story with Photos