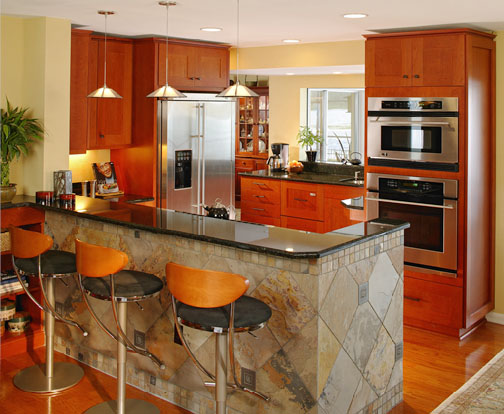 Reprinted from July 2005 news release.
The 2005 Aurora Award was received by PSG Construction for the renovation of a kitchen in a home on Lake Charity in Maitland.
The renovation that used the existing space to create an exciting and highly efficient space, received the award in conjunction with the Southeast Building Conference held in July, 2005. The project was selected from entries in the category for Remodeling, Renovation, or Historical Restoration.
The kitchen of the 50's ranch had been remodeled in the 70's but was in great need of updating. The homeowners felt the kitchen was uninspiring in layout and design. They also wanted to open it up to the rest of the house.
Shaker-style cabinetry finished in natural cherry, black granite countertops and stainless steel appliances created a sleek transformation. Slate used at the front entry and foyer was carried inside and repeated on the kick space of the raised bar.
A raised ceiling and recessed lighting replace the outdated dropped ceiling and fluorescent lighting and make the kitchen look larger. The raised bar with pendant lights overhead help separate the kitchen from the great room without visually closing it off.
Full Story with Photos