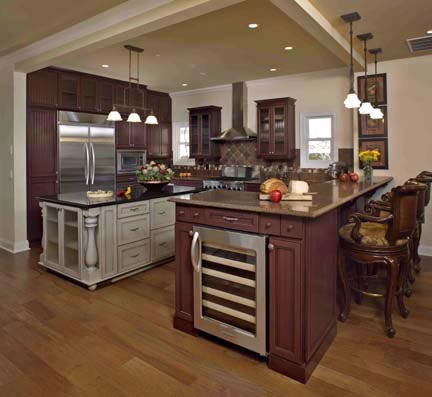 Countless Features in this 1909 Renovation Make it a Memorable First
Reprinted from February 25, 2007 news release
Although the NAHB has been building The New American Home® (TNAH) for 25 years, this is the first time they have built and presented a renovated home, called The Renewed American Home® (TRAH). Celebrating its 20th anniversary this year, PSG Construction Inc. is the builder.
Built in 1909, this historic home features a unique vernacular Florida style – a distinctive mix of Victorian, Four-Square Gable and Colonial Revival. Originally consisting of 2,462 square feet, the home is being completely renovated and expanded. With the addition of a basement and other new spaces, the renovated home will have a total of 5,860 square feet of air-conditioned space and a total of 7,175 square feet of space under roof. Additional team members for the project include Lucia, Kassik and Monday Inc., and Robb & Stuckey Furniture & Design Studio.
Outstanding features of the home include meticulously handcrafted floor-to-ceiling wainscoting in the entry and staircases leading upstairs and to the basement. Two master bedrooms suites offer flexibility for multi-generational living. A beautiful morning kitchen in the upstairs hallway includes a refrigerator, dishwasher, sink and storage. A claw-foot tub and unique diamond-shaped tiles with raised tile buttons are also unusual features. The wine cellar in the basement is equipped with 1,500 bottles of wine. A safe room, a laundry room, flex space, and an exercise room complete the basement. All three levels are accessible by an elevator.
Just as important is the outdoor living space, aptly appropriate for the sub-tropical climate. The brick turn-around driveway also serves as a courtyard. A TV over the outdoor fireplace highlights the covered patio adjacent to the garage. A staircase in a corner of the patio leads to the garage apartment.
"My brother and I couldn't be happier about celebrating our company's 20th anniversary with The Renewed American Home," says PSG Construction co-owner Stephen Gidus. "We are elated to be a part of this team and to have served the NAHB and International Builders' Show in this manner."
The house was moved from its original Lake Eola historic district site at the corner of Broadway Avenue and Ridgewood Street to the lot next door. On the original site, The New American Home®, a three-story urban loft, has been built by Carmen Dominguez. The New American Home® is a real-world laboratory demonstrating concepts, materials, designs and construction techniques that can be replicated – in whole or in part – in housing built any place and in any price range. The Renewed American Home will serve the same purpose, only showing how older homes can be renovated to meet modern lifestyles.
Full Story with Photos