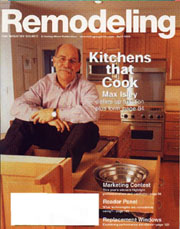 Reprinted from April 2002 news release.
The renovation of a 1925 Orlando bungalow by PSG Construction, a Winter Park remodeling company, is featured in the April issue of Remodeling magazine, a national publication geared to the remodeling industry.
The historically correct restoration/addition gained the attention of Remodeling magazine because of PSG Construction's system for restoring the original part of the house to its original integrity and their attention to matching over 30 details in the addition.
The project is also slated to appear in Southern Living magazine, and won an Aurora Award from the Southeast Building Conference in 2001. The kitchen of this project appeared on the front cover of the March/April 2002 issue of Florida Home Builder magazine.
PSG Construction worked with Ross Design Group, who was responsible for designing the project.
Restoration to the original part of the home involved attention to many details which helped return the home to its original condition. The original windows were re-glazed and made operable. Oak and heart pine flooring was refinished throughout, and the interior was completely repainted. The bathroom's original tub and sink were restored. Button light switches were replaced with reproductions, and new HVAC was installed with concealed duct work to maintain the original integrity of the home.
The homeowner wanted the 940 square foot addition, which includes a family room, dining area and master bedroom/bathroom suite, to feel as if it were part of the original house, so PSG Construction researched and matched over 30 details-some having to be custom made, such as the 8″ baseboard in the addition, which was milled using a custom-made tool. Other matched details include room scale and 9'4″ ceiling height; window and door casings; two-panel doors; picture moulding; electrical switches; and 3/4″ oak flooring.
Full Story with Photos