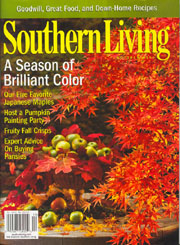 Reprinted from October 2002 news release.
A circa 1925 restoration/addition located in the downtown Orlando historic district is featured in the October issue of Southern Living magazine. The historically correct restoration/addition was completed by PSG Construction. Another project completed by the Winter Park remodeling company also appeared in the March 2002 issue of Southern Living.
Working with Ross Design Group, PSG Construction was able to meet the homeowner's goals of "respecting the architectural integrity of the house." The homeowner wanted to return the existing 1796 sq. ft. space to its original condition and add a family room and master bedroom suite, but only if the addition looked as if it were part of the original space.
Restoration to the original part of the home involved attention to many details. The original windows were re-glazed and made operable. Oak and heart pine flooring was refinished throughout. The bathroom's original tub and sink were restored. Before any interior work could be completed, however, it was necessary to structurally reinforce one side of the foundation.
The existing kitchen space was fitted with amenities that offer contemporary conveniences without jeopardizing the home's original character including a farmhouse sink, marble countertops and commercial-style stainless steel oven and exhaust hood. A hand-scored plaster wall mimics the original. The built-in buffet and hutch were covered and protected during renovation and now offer authentic charm as well as storage space.
For the 940 sq. ft. addition which includes a family room, dining area and master bedroom/bathroom suite, PSG Construction researched and either matched or custom made over 30 details. Windows for the addition were custom milled to match the original windows. The three-over-one and four-over-one windows have true divided putty glazed sashes and rope with pulleys and weights concealed behind jambs. Parts were salvaged from vintage windows and used on many of new windows. Glass door knobs and brass hinges were located on eBay™ to match those in the existing home. Equal attention was given to details on the addition's exterior.
The project was awarded a 2001 Aurora Award and also a 2001 Parade of Homes Remodelor's Showcase award.
Full Story with Photos