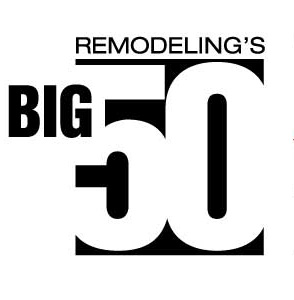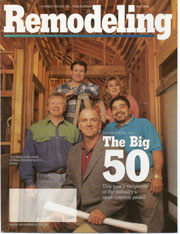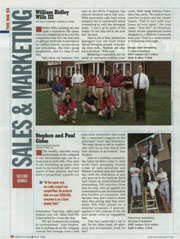 Reprinted from The PSG Report, Summer/Fall 1998, Vol. III, Issue 2.
A call from the national publication Remodeling magazine resulted in PSG Construction being named one of the top 50 remodelers in the country. PSG is profiled in the May issue of the magazine which is geared to the industry's professionals.
Described by the magazine's Editor-in-Chief Paul Deffenbaugh as an award given to remodelers who "exemplify the highest standards in the industry," the Big 50 Award attempts to distinguish remodelers "from other quality competition." Judges look for what is described as "shining examples" in the remodeling industry in areas including marketing, sales, design, management and community service. PSG Construction was selected for their marketing abilities.
While candidates may nominate themselves for the award, Stephen received a call this spring from an editor of the magazine who had received a copy of the company's newsletter, The PSG Report. Impressed with its quality and content, the editor requested an over-the-phone interview in lieu of the usual written application.
"We were surprised to receive a phone call from one of the editors, but even more surprised when we were selected as a winner," Stephen recalls. "To be hand-picked by a national publication of this nature is considered quite an honor."
As a result of winning the award, the Gidus brothers participated in a Leadership Conference in Washington, DC, during which the award was presented. During the ceremony, Deffenbaugh stated that each year it gets harder to select the award winners because "…the level of professionalism in the remodeling industry has soared to such a level that it has become difficult to identify those at the upper echelon."