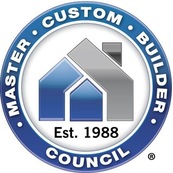 Reprinted from The PSG Report, 1999, Vol. IV, Issue 1.
Membership into The Master Custom Builder Council, an exclusive Central Florida organization, was recently granted to PSG Construction. This grass-roots association was founded by Rial Jones, owner of Jones-Clayton Construction, Inc., and has gained much status and prestige in the ten years it has been in existence.
Pledging to "maintain the highest professional standards in the home building industry," The Master Custom Builder Council (MCBC) consists of 35 of Central Florida's foremost custom and luxury home builders. Gaining membership into the Council by invitation only, this elite group of professionals are carefully screened, and must meet the strict code of standards and requirements enforced by the organization.
Prior to joining the Council, MCBC builders already possess a reputation for quality, professionalism and integrity. Seminars, continuing education and monthly membership meetings provide members with additional opportunities to expand their knowledge and expertise.
Homeowners who place high priorities on the quality of their residence and lifestyle will enjoy the numerous benefits of selecting PSG Construction, an MCBC member, as their contractor of choice.