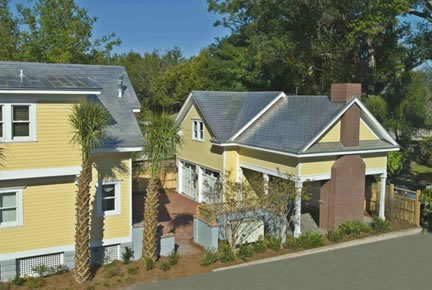 Just weeks after winning a First Place award in the Home Builders' Association (HBA) of Metro Orlando Parade of Homes, PSG Construction's entry for a historical renovation was recognized again with an Aurora Award on July 13, 2007. The award was in the category of 'Remodeling, Rehabilitation or Historical Restoration.'
In addition, the home was a finalist for the Home of Year Awards, sponsored by Orlando Leisure magazine, and recognized at an awards ceremony on August 4, 2007.
The home continues to receive national as well as international attention, since it was unveiled during The International Builders Show in conjunction with the National Association of Home Builders (NAHB) in February of 2007.
Built in 1909, this historic home is located in the Lake Eola Heights district of downtown Orlando. It features a unique vernacular Florida style – a distinctive mix of Victorian, Four-Square Gable and Colonial Revival. Originally consisting of 2,462 square feet, the home was completely renovated and expanded to reflect its turn-of-the-century roots. With the addition of a basement and other new spaces, the renovated home has a total of 5,860 square feet of air-conditioned space and a total of 7,175 square feet of space under roof. The house was moved from its original site at the corner of Broadway Avenue and Ridgewood Street to the lot next door.
Outstanding features of the home include meticulously handcrafted wainscoting in the entry and staircases leading upstairs and to the basement. Two master bedrooms suites offer flexibility for multi-generational living. A claw-foot tub and unique diamond-shaped tiles with raised tile buttons are also unusual features in the main master bathroom. A beautiful morning kitchen in the upstairs hallway includes a refrigerator, dishwasher, sink and storage. The wine cellar in the basement can accommodate 1,500 bottles of wine. A safe room, a laundry room, flex space, and an exercise room complete the basement. All three levels are accessible by an elevator.
Just as important is the outdoor living space, with a brick turn-around driveway that also serves as a courtyard. A TV over the outdoor fireplace highlights the covered patio adjacent to the garage. A staircase in a corner of the patio leads to the garage apartment.
"PSG Construction is thrilled to be celebrating its 20th anniversary with multiple awards, projects and recognitions," says PSG Construction co-owner Stephen Gidus. "We look forward to creating unique projects like this award-winner for our clients."