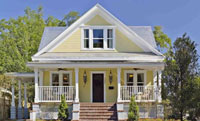 Reprinted from May 2007 news release.
With over 140 homes and communities entered in the 2007 Home Builders' Association (HBA) of Metro Orlando Parade of Homes, the custom home PSG Construction co-owner Paul Gidus built as his family home received Grand Award for custom homes. Valued at $1.75 million, the home was competing against over 36 homes valued at more than $1 million. In addition, the home PSG built for the National Association of Home Builders (NAHB) in conjunction with the 2007 International Builders' Show—The Renewed American Home— received First Place in the category of whole house renovation with additions, $2.5 million and up. The awards were presented at the Parade of Homes Awards Ceremony May 19, 2007.
Located in Beeman Park across from Lake Sue, the custom home features reclaimed wood beams Paul acquired from an abandoned barn in upstate New York. The beams are used for columns, as well as for ceiling beams in the dining room, study, outdoor living area and in the wine cellar. Unusual to Central Florida, the PSG home has a basement that features the wine cellar, a storage room, and a craft room.
With 7,787 square feet under roof, and over 5,100 square feet of air-conditioned space, another highlight is the study that is entirely paneled with maple and hickory wood. Built-in shelving, a desk, space for a big-screen television, a spiral staircase leading to a book loft with hidden doorways, and French doors to the front porch make the study an outstanding gentleman's retreat.
An unfinished guest suite that is completely self-sufficient with living area, bedroom, bathroom, kitchenette and laundry facilities will be finished in the near future for visiting family.
Receiving international attention, PSG's winning renovation entry is located in the Lake Eola Heights historic district in downtown Orlando. Currently for sale for $2.9 million, the home was built in 1909, and originally consisted of 2,462 square feet. Completely renovated and expanded for a total of 7,175 square feet under roof, the home was renovated to reflect its turn-of-the-century roots. Outstanding features include meticulously handcrafted wainscoting in the entry and staircases, two master bedrooms suites, an extensive morning kitchen in the upstairs hallway, a full-height basement, wine cellar, elevator, safe room, extensive outdoor living space, and a garage apartment.
"As we celebrate our 20th anniversary, PSG is extremely proud to have won both the Grand Award and First Place for our two entries," says PSG partner Stephen Gidus. "We are committed to bringing this kind of excellence to each one of our clients."
Full Story with Photos
About the Renewed American Home