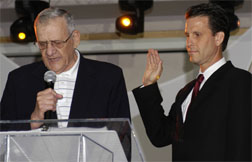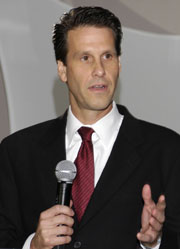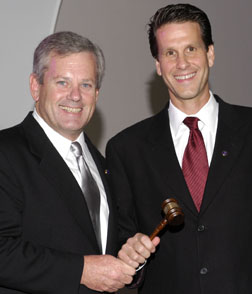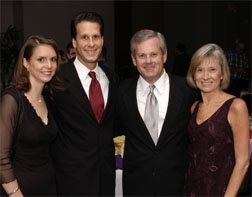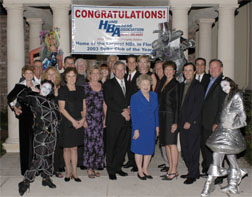 Reprinted from November 2003 news release.
The Home Builders Association of Metro Orlando (HBA) has installed Stephen Gidus as its president for 2004. Partner and co-owner of PSG Construction, Inc., Stephen was installed and began his term on November 7. Stephen has been an active member of the HBA for the local, state and national associations.
Sixteen years ago, Stephen Gidus started his remodeling business, PSG Construction, Inc. with his brother Paul. Back in 1987, Stephen and Paul worked from an office in their home and performed much of their own work. Their focus then was primarily on providing outstanding craftsmanship to homeowners.
Today, Stephen and Paul have built their company into one of the most recognized remodeling firms in the area. They have gained a reputation for giving clients an exemplary remodeling experience, and have also become involved in the industry on a leadership level that has helped make a difference in Central Florida's remodeling industry.
Most recently, Stephen was elected 2004 President of the Home Builders Association of Metro Orlando.
"This position will allow me to give back to the association in a bigger way because of what it has done for our own company," Stephen says.
He recalls when PSG Construction first joined the Home Builders Association (HBA) of Metro Orlando in 1996. "We wanted to create a better-run company in order to benefit our clients," Stephen explains. "We wanted to become associated with the industry experts. We knew there was a tremendous amount of opportunity to learn and grow our business."
As a result of their membership, Stephen began serving on committees, entered a project in the Parade of Homes Remodelors' Showcase every year, and became involved in the HBA of Metro Orlando's Remodelors® Council. From 1998-2000, Stephen served as the chairman of the local Remodelors® Council.
In addition to his involvement with the HBA of Metro Orlando, Stephen serves on the Board of Directors of the Florida Home Builders Association (FHBA), Board of Directors of the National Association of Home Builders (NAHB), and the Steering Committee of the Master Custom Builders Council (MCBC). He has also held a number of other positions in other professional organizations.
"As I became more involved in the HBA of Metro Orlando, I was asked to run for the Board of Directors," Stephen says of the position he has held since 2000.
Two and a half years ago, Stephen was approached by Kim Goehring, then 2001 HBA of Metro Orlando President, and asked to consider an executive leadership position. This meant running for election as Treasurer and winning the election in 2002. He was elected Vice-President in 2003.
Concerned with the effect Central Florida's current impact fees have on first time home buyers and the building industry, Stephen's focus as president will be to convince government officials that transfer fees–a smaller fee charged to every home sold in the community, both new and existing–could result in a more manageable fee that is spread out more equally and fairly.
"Transfer fees can help make the purchase of a home more affordable especially for the first time home buyer," Stephen explains. He plans to work with local civic and real estate leaders to explore the feasibility of adopting this policy.
"Being a member of The HBA of Metro Orlando has done a tremendous amount to enhance our company and its growth," Stephen reflects. "We pride ourselves in being a well-run remodeling company with good relationships with our subcontractors and suppliers. Most importantly, we have been able to form great relationships with our clients and provide them with a positive remodeling experience. We credit our partnership with the HBA of Metro Orlando with helping us reach that goal."

The Home Builders Association of Metro Orlando was established in 1953 and currently is the largest home builders association in Florida with more than 1,400 members.