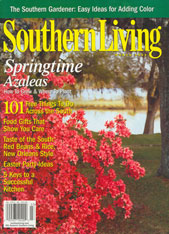 Reprinted from March 2002 news release
Appearing in the March 2002 issue of Southern Living magazine is a project completed by PSG Construction that also was awarded First Place in Orlando's 1998 Parade of Homes Remodelers® Showcase. In addition, the home is the residence of PSG Construction Partner Paul Gidus.
One of several PSG projects photographed by Southern Living, the Beaman Park home is the first of the projects to appear in the national magazine.
Contrary to the trend of sprawling floor plans popular several years ago, the home is an example of the phrase "less is more" and the project was completed at a time when homeowners began questioning the validity of inhabiting homes that were unnecessarily oversized. The home addresses a significant group of consumers who recognize the value of owning a home that may be smaller in square footage but possesses the craftsmanship and details typically found in larger, most costly homes.
Prior to renovation, the 1950's ranch had a flat roof and only 1593 square feet of living space. PSG Construction converted the home into a 2,000 square foot traditional style home with pitched roof and stucco exterior. The home now includes three bedrooms, three bathrooms, a family room, mud room with built-in desk, play room and guest suite. The project was accomplished without exceeding a determined budget and by utilizing the home's existing boundaries.
The project also appeared in the August 2001 issue of Better Homes and Gardens magazine. "This home has attracted a great deal of interest since the project was completed," said Paul Gidus, PSG partner and owner of the home. "So many people own this type of aging, outdated home. They relate to what's been done with this project and see the potential in their own home."
Windows spanning a width of nine feet and reaching from floor to ceiling in the eat-in kitchen provide a view of an adjacent 200-year-old oak tree. Fourteen feet of French doors, sidelights and bookcases lead into the family room, where the original tongue-in-groove ceiling was salvaged and worked into the overall character of the room. Details such as wainscoting, chair rail, oversized 7″ crown molding, granite fireplace hearth and hardwood floors create the home's unique character.
The galley kitchen is equipped with granite and tumbled marble countertops, ceramic tile flooring and a pair of glass-door display cabinets. The master bathroom is finished with a marble floor, countertop and shower. The hall bath also features luxurious finishes including a marble countertop, elegant arched tub opening, and upgraded fixtures.
"The project speaks to a large group of homeowners who don't have a sprawling house and don't want one, either," said PSG Partner Stephen Gidus "They're happy with the modest size home they have, but want every bit of the space to be comfortable, even luxurious. So many people look at this project and say, 'I can do that with my house!'"