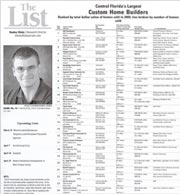 Out of 24 central Florida custom home builders named to The List in a July 2006 issue of the Orlando Business Journal, PSG Construction was ranked #19.
According to The List, PSG built ten homes in 2005, with a total value of $9 million. 3,900 square feet was the average size of these homes.
The largest builder listed had $76 million in total sales and sold 79 homes. "We are pleased to be identified as one of the largest custom home builders in Central Florida," says PSG co-owner Stephen Gidus.
"This is a great way to be entering our 20th year as builders," Stephen said. PSG
Construction was founded in 1987 by Stephen and his brother Paul, who serves as co-owner of the company.
view the list