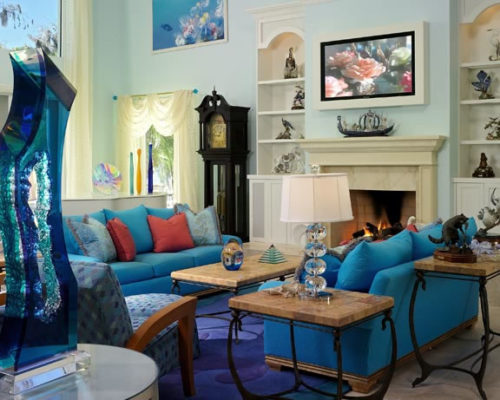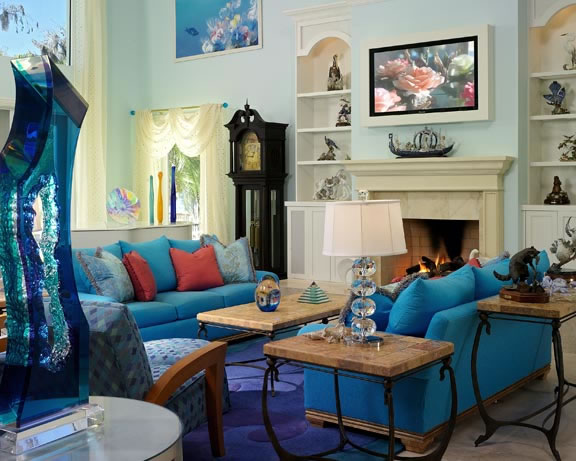 Reprinted from August 2006 news release.
(Winter Park, FL) PSG Construction Inc. received Honorable Mention in the Living Room category at the third annual Orlando Leisure magazine Home of the Year awards held July 20, 2006. The home, located on Lake Tibet in Orlando, also won First Place in the 2006 Parade of Homes in the category of Whole House Renovation with Addition over $1,000,000. The Home of the Year awards gala was held at the Ritz Carlton Orlando.
Team members for the Bay Point contemporary home include Alex Stone, Alex Stone Architect, Maitland, FL (architect); Liz Harris of Designers West Interiors, Indiatlantic, FL (interior design); Matt Carpenter of Busby Cabinets, Orlando, FL (custom cabinetry); and photos by Everett & Soule.
The contemporary whole house renovation resulted in providing a spectacular lake view from almost every room. In the living room, bold blue furnishings set against a soft color palette of aqua and white highlight the owner's distinctive art collection. A custom designed, free-standing art display by Busby Cabinets separates the living room from the dining room without sacrificing the lake view.
View the Contemporary
View the Ranch