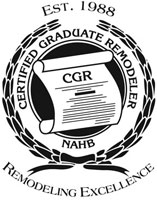 Reprinted from The PSG Report, 2000, Vol. V.
PSG Construction wanted to do more for their clients. They wanted their clients' projects to be ultimately unique in quality, design and workmanship. For those reasons, Paul and Stephen Gidus recently received certification as a Certified Graduate Remodelor. There are only five CGRs in Central Florida, including Paul and Stephen.
"Becoming a CGR gives us a professional edge and an expanded vision of the industry," Stephen Gidus explains. "This means our clients get the finest services available for their investment."
Certification as a CGR indicates:
PSG has met NAHB (National Association of Home Builders) prescribed standards of business practice
PSG has a proven track record of successfully completing projects
PSG has completed relevant educational requirements
PSG pledges to uphold the CGR Code of Ethics
PSG will be re-certified every three years to maintain CGR designation by attending educational seminars, trade shows and programs
"CGR certification means we can give our clients something better–better quality, better design, better workmanship. This is peace of mind for our clients and for their investments," Paul Gidus says.