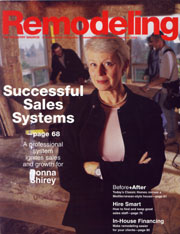 Reprinted from February 2001 Remodeling magazine and June 2002 Remodeling magazine website
By Nina Patel
Senior Editor, Design
Remodeling magazine
When a trim carpenter on one of PSG Construction's sites punctured a water line, employees wasted precious minutes searching for the water shut off valve. Now the Winter Park, Florida-based company uses bright, simple signs to help employees and subs identify the locations of important equipment and off-limits areas.
Signs mark the construction entrance to the building and show the set-up crew where to locate such necessary items as the Dumpster and portable toilet. Another sign highlights a list of the company's standard rules and regulations, which helps new subs and new employees understand the company's policies about profanity, drinking, and loud music. Partner Stephen Gidus says the company also marks a homeowner parking area to prevent workmen and suppliers from blocking the driveway.
Planning for the signs starts during the pre-construction meeting when the salesperson determines which signs will be needed and marks their locations on the site by spraying a number in orange paint. Each number correlates to a specific sign.[/one_second]The salesperson also marks the number on the site drawing, so crews have both the plans and on-site markings during set up.
The company began using the reflective aluminum signs five years ago. The cost is nominal — about $50 for small signs and $100 for larger ones, including printing by a sign company. Gidus addresses specific client concerns by printing computer-generated signs on orange card stock and laminating them.
The signs are tangible indicators of PSG's high regard for customer-service, and they reinforce the company's professional image. Subcontractors also welcome a neat, controlled site. "Many problems between remodelers, subs, architects, and homeowners can be tracked to a lack of communication," Gidus says.