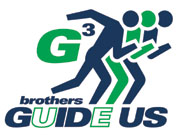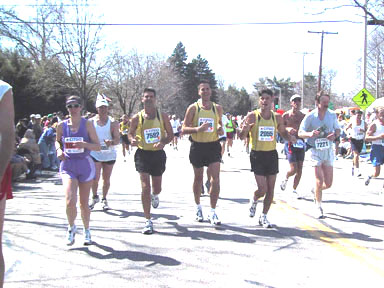 Reprinted from April 2003 news release.
Three brothers completed the 107th Boston Marathon Monday, April 21, 2003 and made history as the first three brothers ever to qualify for, run side by side, and complete the Boston Marathon.
Brothers Paul, Stephen and Jim Gidus (pronounced 'Guide-us') of Central Florida came across the finish line together with a time of 3:51:13 (3 hours, 51 minutes, 13 seconds) in the race which carries strict qualification requirements, hosts the finest distance runners in the world, and is the second largest single day sporting event in the world.
New Balance Athletic Shoe, Inc. was the official clothing sponsor for the Gidus Brothers. Boston Marathon officials took notice of the trio and granted them VIP status.
Paul, age 42; Stephen, age 40; and Jim, age 39, began training to qualify for the Boston Marathon in May, 2002. In order to qualify, Paul and Stephen needed to run a previous marathon in 3 hours and 20 minutes (3:20) or less, due to their age; Jim needed a time of 3:15 or less. Stephen and Jim qualified for the Boston Marathon at the Columbus Marathon in October, 2002 with a personal record (PR) of 3:13 for Stephen and 2:56 for Jim. Paul attempted to qualify in Columbus but a previous hamstring injury flair-up brought him in almost 14 minutes past the necessary time. He qualified, however, at the Houston Marathon in January, 2003 with a PR of 3:18.
The brothers were after a more aggressive finish time, but at about the 8 mile mark, Paul began to lose force, a possible result of a strained back muscle just days before the race.
"My energy level just wasn't there," Paul recalled. At the 14 mile mark Paul was forced to walk. Because the brothers had agreed ahead of time to stay together despite their varying abilities, Stephen and Jim interrupted their run to walk with Paul.
"I walked for about a mile or two to regain my energy, and then I would begin to run again," Paul said. "I had to do this several times." The act of sticking together was not a novel idea for the brothers. As youngsters who were very close in age, the brothers did practically everything together. As they grew older, they continued to be close, even working together in a family business.
The brothers are pleased with the day's outcome. "We met our goal of running side by side and finishing the race together. That's what counts," said Stephen.
While Jim preferred to train on his own, Paul and Stephen trained with the Track Shack Marathon Fest, an organized training group in Orlando, under the direction of Track Shack President and Co-owner Jon Hughes. Jon is also the race director of many Central Florida running races including the Walt Disney World Marathon, and handled race particulars for the brothers.
"I've spoken to the Boston Marathon Executive Director Guy Morse, and to his knowledge, three brothers have never qualified and run together in this race," said Hughes.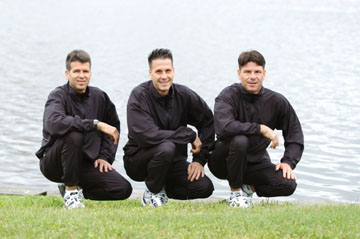 According to Ryan Lamppa of the USA Track & Field Road Running Information Center, only a select group of marathon finishers qualify for the Boston Marathon. Lamppa pointed out that it is fairly easy to run a marathon, but only a select group of people train hard enough and have the physical and/or mental talent to finish a marathon with a good qualifying time.
*Prior to running the Boston Marathon, the Gidus Brothers carried out research that led them to believe three brothers had never qualified for and completed the Boston Marathon together. However, in a letter to the editor of the Orlando Sentinel published several weeks after the marathon, it was pointed out that four brothers, one of whom resides in Central Florida, completed the Boston Marathon in 2000.
Article with Photos