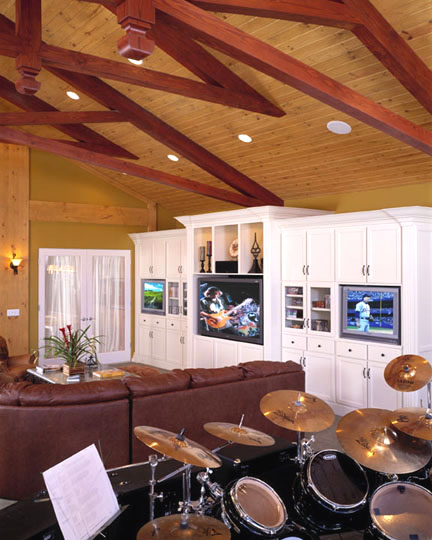 Reprinted from April 2003 news release.
The 1,300 square foot recreation room addition that accommodates a family's six children was awarded First Place in the 2003 Parade of Homes Remodelors' Showcase.
The addition is located at the guest house, which is just steps away from the main residence. The room is designed to resemble the gathering room of a comfortable cabin, with a 16 foot vaulted ceiling that accentuates the room's spaciousness.
The focal point is the 22 foot built-in entertainment center with electronic equipment that is the latest in technology. The entertainment center houses a 65″ true high definition television set up for DTS-ES surround sound, and flanked by two 32″ TVs that have the capability of serving as computer monitors, video game monitors and cable outputs. Behind the built-in is a walkway that gives access to wiring for the electronic equipment.
Full Story with Photos